New Car Sales up 14% in August
There was an increase of 14%(7,304) in new car registrations this August compared to August 2015 (6,400). Meanwhile total passenger car sales are up 19% (138,528) compared to the same period last year (116,195). Sales of commercial vehicles are also up: Light Commercial Vehicles are up 11% (1,815) compared to August 2015 (1,642) and up 22% on the year to date, Heavy Goods Vehicles are up 49% for the month of August (251) compared to the same month last year (169) and up 41% on the year to date.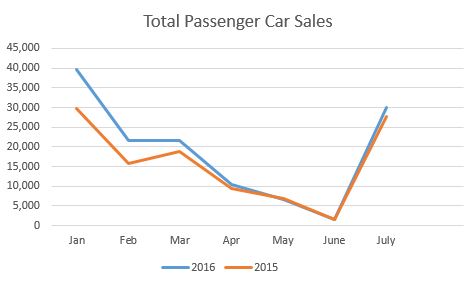 Commenting on the figures, SIMI Director General Alan Nolan said, "The Motor Industry has been working hard to deliver the continuing level of growth in what has been a noticeably more difficult market since June. As we move toward the end of the third quarter of the year the Industry remains focused on business still to be done, with strong offers still available for consumers. In contrast with the era before the two-period registration system was introduced, when sales were all finished in the first quarter, the interest in new vehicle sales now tends to carry to the end of the third quarter, but obviously at a lower rate. We believe the Industry is still on course to deliver close to 150,000 new car sales by the end of the year, indeed new car sales have already generated €1.2 Billion for the Exchequer in VRT and VAT receipts."

Hyundai remains the best-selling brand with 15,072 registrations ahead of Toyota with 14,735. Volkswagen is in third place, down from the best-selling brand in 2015, with 14,378 registrations followed by Ford with 13,947 and Nissan with 11,376.

The best-selling car remains the Hyundai Tucson with 7,230 registrations, well ahead of the Volkswagen Golf in second place with 4,681.

At the premium end of the market, Audi is out in front with 5,575 sales, compared to BMW with 5,025 and Mercedes-Benz with 3,530. The best-selling premium car remains the BMW 5 Series, with 1,440 registrations to date in 2016.
There were just 361 electric cars registered this year, a fall of 17% on the same period last year. However, Hybrid Petrol electric cars have increased from 1,290 in 2015 to 2,399 so far this year.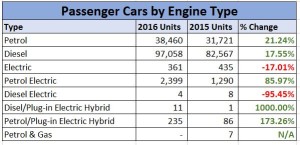 For more statistics visit www.beepbeep.ie/stats.
If you're looking for new lease or rental car contact us today on 01 4605250 or email info@jensenfleet.ie to discuss your options.
https://www.jensenfleet.ie/wp-content/uploads/2017/11/jensen-new-logo.png
0
0
Jensen Fleet Solutions
https://www.jensenfleet.ie/wp-content/uploads/2017/11/jensen-new-logo.png
Jensen Fleet Solutions
2016-09-06 16:07:10
2016-09-06 16:09:08
New Car Sales up 14% in August