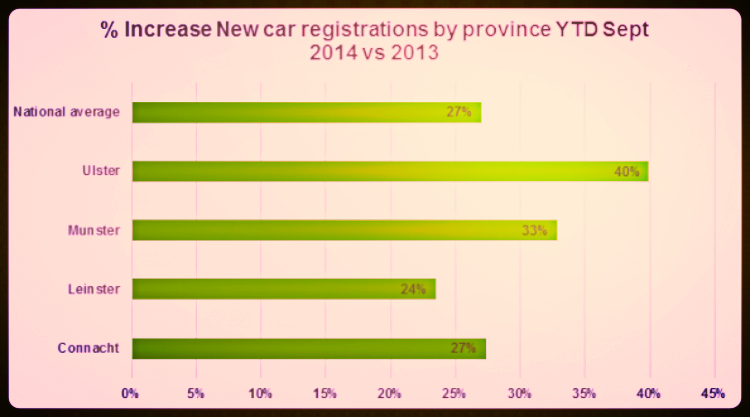 It's hard to believe it's that time of year again, where did 2014 go?  Now is the time when you will need to start thinking about your fleet needs for 2015.  As car manufacturers are stocking less and less, the order period is growing to an average of 8-12 weeks for all new orders.  So it's important to be prepared.
Recently announced figures for 2014 show that so far this year, 95,217 cars have been sold. This is an increase of 30% on 2013 (73,454). This is the first time since 2009 that new car sales have reached 95,000.
The released figures show that the Volkswagen Brand continues to be the best seller, followed closely by Toyota and Ford who don't have much difference between them. When we look at the sales figures from last year, the majority of the top ten best selling cars are the same, with the exception of the Renault, who didn't make the short list last year.  Skoda have also moved up the rankings from last year, overtaking Opel with an increase of 24.64% on last year's figures (Skoda's 2013 sales where 4903).
Figures to September
| | | |
| --- | --- | --- |
| Manufacturer | Units Sold 2014 | Market Share 2014 |
| Volkswagen | 11,254 | 12.08% |
| Toyota | 9,915 | 10.64% |
| Ford | 9,288 | 9.97% |
| Hyundai | 7,990 | 8.57% |
| Nissan | 6,837 | 7.34% |
| Skoda | 6,111 | 6.56% |
| Opel | 6,073 | 6.52% |
| Renault | 4,688 | 5.03% |
In terms of specific vehicles the Nissan Qashqai is still one of the best sellers in 2014 and has accounted for 46% of all units sold by Nissan this year.  The leading vehicle sold in 2014 is the VW Golf with an impression number of 4,338 units sold this year giving it a 5% market share.
The Commercial Vehicle market shows even more positive growth, with light commercial/van sales up by 51% (15,900) this year in comparison to 2013 (10,555), with the month of October (1,370) recording a strong sales increase, up 79% compared with October last year (766).
In relation to commercial vehicles, the market leader, with an impressive 25% of the market share, is Ford.  With the wide range of vehicles they have available, from the Fiesta and Focus vans through to the Transit up to the newly released Ford Transit Custom; it's not hard to see why they are the market leader  The closest competitor to Ford is Volkswagen with a highly respectable 16% share of the market.
Within the fleet industry we have noticed over the past 24 months that the usual VW Passat and Ford Mondeo have seen some decline, but with their new releases coming onto the market we expect to see a significant increase in both models and we wouldn't be surprised to see them racing to the top in 2015.
Jensen Fleet's most popular fleet vehicle put out on lease for 2014 was the Audi A4, followed closely by the Opel Insignia and somewhat surprisingly, the Kia Sportage, which has made a strong comeback in the 2014 Fleet market. If you're thinking about renewing your fleet in 2015 or looking at Leasing for the first time why not give our Sales team a call on 01-4605250 or email us at info@jensenfleet.ie. With our expertise, we can help you find the best leasing options to suit your needs.
For more information why not check out our new website, www.jensenfleet.ie
https://www.jensenfleet.ie/wp-content/uploads/2017/11/jensen-new-logo.png
0
0
Jensen Fleet Solutions
https://www.jensenfleet.ie/wp-content/uploads/2017/11/jensen-new-logo.png
Jensen Fleet Solutions
2014-12-19 11:52:31
2014-12-19 11:52:31
What's Top of the Pop's?